Tomato Factory's first game, Sheeple, is now available on the App Store for only $0.99 (USD)! We are excited to have you play Sheeple and hear what you think! Episode 2 was submitted this morning and we will use your feedback to help create Episode 3!
Episode 1: Meet the Sheeple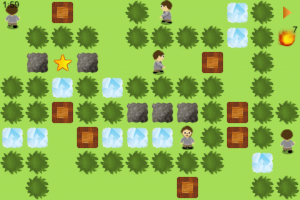 In this initial episode you are introduced to the Sheeple and their world. This episode consists of 60 levels that you must help guide the Sheeple through. The levels start off easy as you learn how to use the tools at your disposal. By level 8, the game starts to become much more challenging and increasingly difficult. You will be able to move crates, destroy boulders with meteors, melt ice blocks with fire, drop bridges over rivers, and drop boulders onto paths to help direct the Sheeple! There are 8 achievements that you must unlock including one secret achievement. The achievements are managed using OpenFeint like many of the other popular games!
You can find more information about the game and view more screenshots on the Sheeple page!